Located on the corner of 33rd and Market Streets, the W.W. Hagerty Library, named after former Drexel University President William Walsh Hagerty, opened in 1983 and presently houses nearly half a million books, periodicals, microforms, and non-print materials. The collection strengths reflect the curricular strengths of the Univ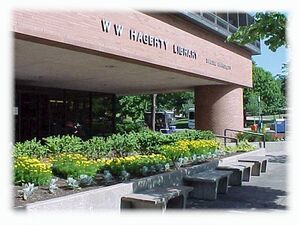 ersity City Campus: engineering, business, information science and design and media arts, as well as general science, humanities and social sciences.
Hagerty Library's more specialized collections include the Archives Collection, comprised of the Drexel Collection, the History of the Book collection, university photographs, and other archival materials; and the Applied Ethics Collection, funded by the Huston Foundation and the Gladys Brooks Foundation, established in 1994 to explore new and creative ways to integrate the teaching of ethics into the broader curriculum.
The lower level of Hagerty Library houses the library's Electronic Learning Center (ELC), which includes two large computer classrooms which are used as computing labs when library instruction classes are not being taught. The ELC provides laptops and software for checkout as well as DVDs and videotapes
Through the Drexel library website, students and faculty have access to large database of scholarly articles and journals which date back twenty to thirty years. These resources can be accessed from both on-campus and off-campus through use of the Drexel user's account login information.
Operating Hours
Edit
On a general basis, the Hagerty Library is open from 7:30 in the morning till 2:00 in the morning. Hours may vary during finals and break weeks. To get more details hours, go here.