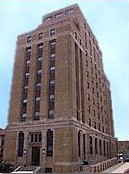 Van Rensselaer is commonly known as Van R.
Located 3320 Powelton Avenue
Freshmen residence hall
4 and 3 person suites with 1 or 2 to a room
Suites are same gender but both male and female on a floor
11 floors, 185 residents – The smallest residence hall by population
Average suite size: approximately 700 square feet per suite
Private kitchenette in every suite consisting of 2 gas ranges, an oven, and a sink
Gift by Cyrus H.K. Curtis, publishing magnate, as a memorial to Sarah Van Rensselear
Ballroom on the first floor utilized for various activities including ballroom dance lessons
I moved into VanR from Towers after my first term at Drexel. To many, including my sister who was once a Towers alum, the move seemed illogical, after all, Towers possesses the largest single rooms available to freshmen. Despite the differing assumptions, my move proved to be one of the greatest things which would occur during my initial year. The building has a maximum of six suites per floor, and with the floor layout as one rather short hallway every floor was extremely social. As well, considering the dorm is the smallest residential building on campus, it was not entirely uncommon to know nearly every individual who resided in the building. Of course, that also meant that it was not uncommon to be disturbed every hour of every day, which could be a double-edged blade. And yes, I know that was a fragment.
Al
Ad blocker interference detected!
Wikia is a free-to-use site that makes money from advertising. We have a modified experience for viewers using ad blockers

Wikia is not accessible if you've made further modifications. Remove the custom ad blocker rule(s) and the page will load as expected.