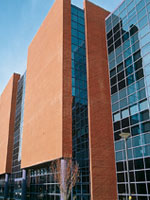 The Pearlstein Business Learning Center is a $15 million facility, completed in 2003. It has a real time stock ticker in the first floor lobby, which is soon to be joined by a Starbucks. The Starbucks will become the fourth place on campus to accept Flex Dollars as payment, as well as cash. All classrooms in Pearlstein have an internet hookup for each student. Some classrooms are lecture style, while others are board room style.
Ad blocker interference detected!
Wikia is a free-to-use site that makes money from advertising. We have a modified experience for viewers using ad blockers

Wikia is not accessible if you've made further modifications. Remove the custom ad blocker rule(s) and the page will load as expected.