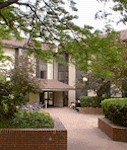 Located at 3301 Race Street
Traditional double rooms
Male and female on the same floor but separate wings
3 floors, 396 residents – the shortest residence hall on campus
Average room size: 11' by 17'
Contains an enclosed courtyard
Most of the Learning Communities in this building
Opened in honor of Harold M. Myers, past President of Drexel
Ad blocker interference detected!
Wikia is a free-to-use site that makes money from advertising. We have a modified experience for viewers using ad blockers

Wikia is not accessible if you've made further modifications. Remove the custom ad blocker rule(s) and the page will load as expected.