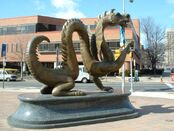 "Mario the Magnificent Dragon," the bronze statue of the school mascot, the Drexel dragon, is the work of renowned Philadelphia sculptor Eric Berg. The statue and the Drexel Dragon Park at 33rd and Market Streets were dedicated on December 4, 2002; donations funded the artwork. Mario is 14 feet long, 10 feet high and weighs 4,100 pounds, on a 17-ton granite base. He is an easily visible landmark at which people can meet, especially when they are unfamiliar with the campus.
The Dragons name, Mario, was adopted in 1997 in recognition of 1945 Alum, Mario V. Mascioli. One of the biggest fans of Drexel Men's Basketball, Mascioli had not missed a single Dragon's game in more than 20 years. In honor of his loyal support of Drexel athletics as well as his professional, public service, and philanthropic accomplishments, the graduation the class of 1997 presented Mascioli with the new costume of the mascot as well as officially dubbing it "Mario the Magnificent." Macioli passed away January 15, 2005.
Ad blocker interference detected!
Wikia is a free-to-use site that makes money from advertising. We have a modified experience for viewers using ad blockers

Wikia is not accessible if you've made further modifications. Remove the custom ad blocker rule(s) and the page will load as expected.