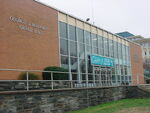 The James Creese Student Center opened in 1963, and was named afer Drexel University's 6th President. The Creese Student Center is attached to the Mandell Theatre and MacAlister Hall, and acts as Drexel's college union.
The union provides a wide variety of cultural, educational, social, and recreational programs for members of the Drexel community. Within the Creese Student Center are lounges, meeting rooms, food services, a fully equipped theater, retail shops, and a ballroom, as well as administrative, student organization, and academic offices.
The retail shops in the Creese Student Center include the Intech Creese Café, the University Bookstore, The Drexel Copy Center, AJDrexel Bank, and the Hair House.