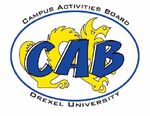 The Campus Activies Board (CAB)is a student-run organization that plans a variety of events for Drexel students throughout the year. During fall, winter, and spring terms, they host Friday Night Flicks, where they show movies that are soon to be released on DVD. These movies are just $3/person and $5/couple. CAB also hosts Comedy Night every year, where they bring in a professional comedian. Previous guests include Jamie Kennedy and Dane Cook. CAB throws a Crystal Ball annually, which is always held aboard the Spirit of Philadelphia, which is a luxury boat on the Delaware River.
Since CAB purchases so many tickets, they get amazing group rates, and tickets are generally inexpensive. They host events both on and off our campus. Some off campus events include trips to New York to see shows on Broadway and trips to Phillies games. Also, every term during finals week, CAB offers free back massages in the Creese Student Center as a de-stressor asstudents take their exams.
Personal Experience
Edit
I waited in line for about 4 hours to get Dane Cook tickets. The ticket window opened at 6pm, and students began lining up at about 9am. The line stretched from the ticket window, through the Creese Student Center, outside, and across the street right by Ecco Qui (across from the Main Building). There were a group of students in front of me who actually brought a television and Playstation, and were playing video games while they waited in line.
- Elena
I went to the Crystal Ball last year, with three friends. Some of us had never been on the Spirit of Philadephia, which is a cruise ship on the Delaware River. We got to go under the Ben Franklin and Walt Whitman bridges, and we got to see both the Camden and the Philadelphia skylines at night. After a delicious dinner, a DJ began playing music, and the dance floor opened. We had a great time!
- Val